We arrived home last night, and we've been getting questions about whether we would tackle something like this again. All four of us answer an unqualified "yes," though Henry's "yes" may be colored by his seven viewings of "Moana" during our trip.
Our trip was not relaxing. Beyond the scarlet fever debacle, several other snafus popped up. We had new tires put on our car right before leaving Austin so that we wouldn't be driving on worn-out treads. You know where this is going, right? Somewhere in the middle of Missouri, one of those brand new tires began going flat. We had it repaired in Chicago and did fine on our trip to Canada, but in the middle of our Montreal visit, there it was deflated again.
When we arrived for four nights in western Massachusetts, we thought our house in the woods would have Wi-fi. It did not. When I say in the woods, I mean on a gravel road surrounded by dense forest and 30 minutes from the nearest grocery store. We had no cell service either. Sounds quaintly disconnected, no? Unfortunately, we weren't prepared. What time did that museum open? Would that hiking trail be manageable for a 3-year-old? The only way to learn was to drive 30 or 40 minutes to check it out. It was like living in the early 1900s with a really awesome horse-drawn cart.
With the kids out of their routines, meltdowns abounded, and I heard a constant chorus of, "Can I have a snack?"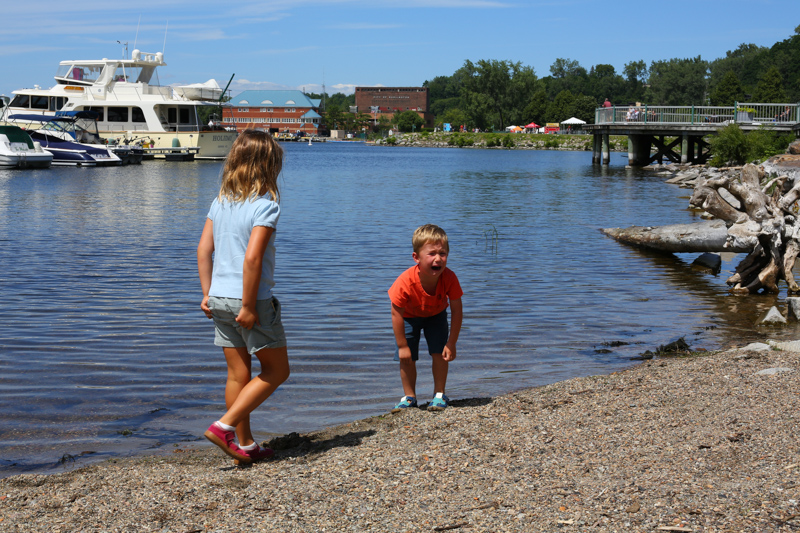 (Wet shoes make Henry sad.)
So why would we do this again?
On our first morning in Massachusetts, we got up early and set out for a hiking trail around an old quarry. When we arrived, it was closed. We began driving again with some vague notion that we would head toward a state park. After 10 miles, Greg tapped on the brakes and said, "That sign said Appalachian Trail."
After a quick U-turn, we were hiking the trail. Eleanor had been a reluctant hiker in the past, but we found that we could engage her by talking about some of her favorite books and the time that the characters spent in the wild. She charged down the trail. The kids made it well over a mile on some very hilly terrain, and we got to chat with a woman who was hiking the entire 2,200 miles.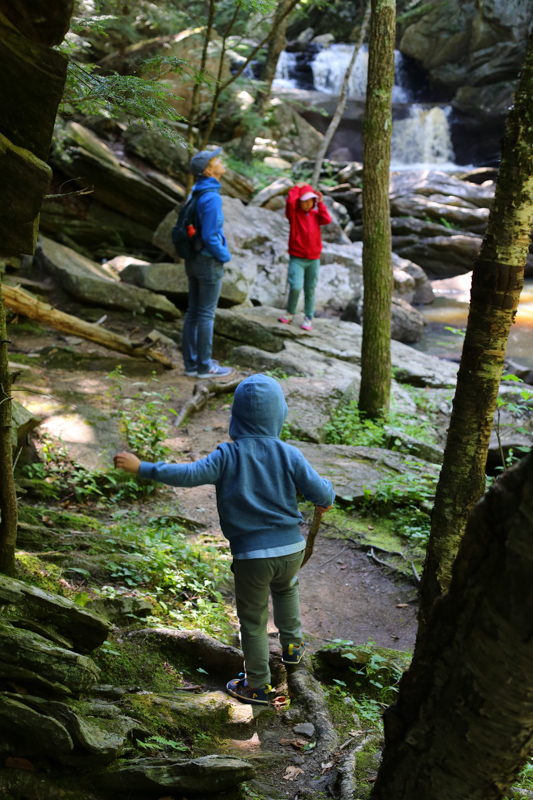 (Not the Appalachian Trail but another good hike.)
Two days in a row, we visited a lake with a small beach that was surrounded by forested hills. This was the kids' first time swimming in a lake, which both thrilled me and broke my heart (so little nature in our lives!). A dock floated out in the water, and on the second day, I persuaded Eleanor to swim out with Greg. She insisted on holding his hand when they jumped off the dock, and it was the quintessential New England moment. Then I swam out with her and shivered and shrieked and basically turned into a 6-year-old. That water was cold. It was the best, guys.
The moments I loved were not those I had planned, the museum visits and nice restaurants, because I had expectations for those things. As any parent knows, your expectations almost always exceed what actually takes place. The best moments happened by accident. We didn't know we would find the Appalachian Trail or the dock at the lake or the amazing restaurant in Buffalo, N.Y., after a long day of driving.
My life requires a lot of routine — school days, grocery runs, lessons — to the point that almost everything feels scripted. Even though our lives are gradually shifting and the kids are growing up, I sometimes think I'll be repeating these routines until I'm 80. Every day of our trip brought a surprise. A few surprises were bad, but most were good. I felt younger, and I could see a lot more possibilities for our lives than I can when I'm in my little Austin bubble.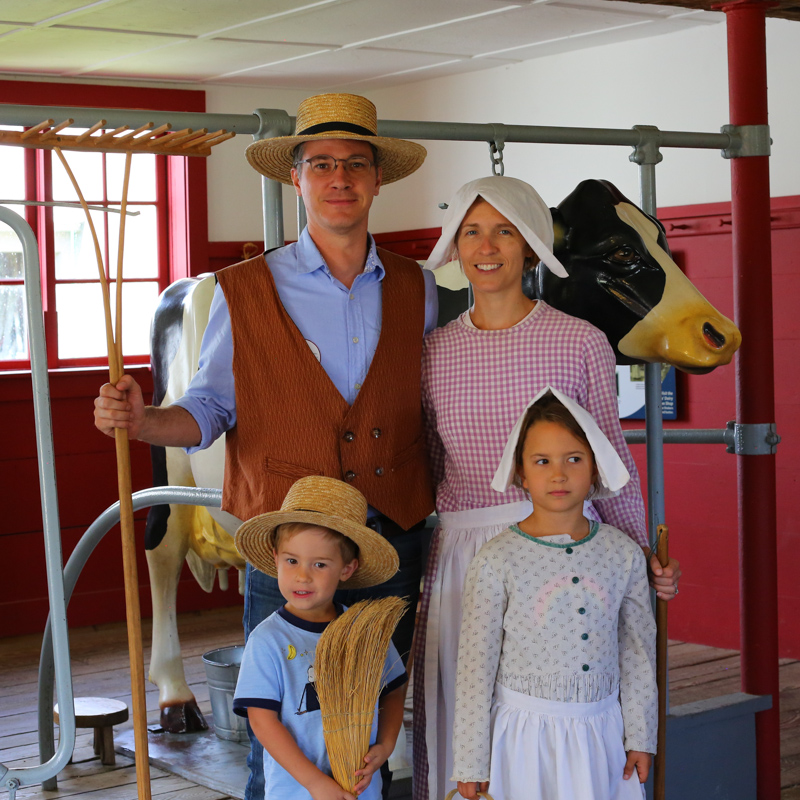 (Shaker village awesomeness.)