I'm late on this back-to-school post because we've been scrambling here the past week, but our schedule is about to get easier (I think!).
Eleanor started third grade last Monday, and she was thrilled. The one bummer about her school is that it is huge — six classes per grade level — so she rarely has friends with her from the previous year. That hasn't bothered her so far, and she seems much more confident than she has in the past. She's able to handle school-related things on her own (even lunch-packing) and wants to handle them on her own. I'm proud. Also, I'll be over here crying in the corner because my baby doesn't need me anymore.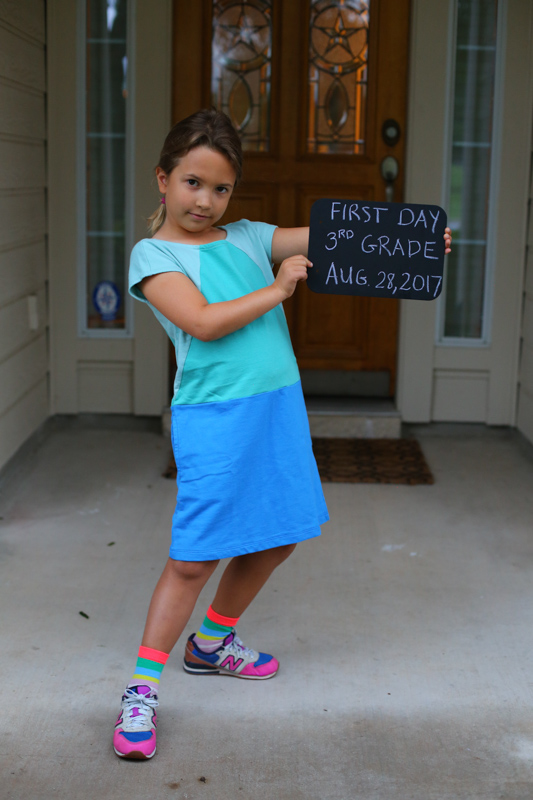 (For those who are wondering, Eleanor wants to be a teacher when she grows up and a writer on the side.)
Henry goes back to preschool on Wednesday. That has made for a crazy week because I started a biology class at community college last Monday. Greg had to spend some time home with Henry while I was off in a lab learning my pipettes from my micropipettors. I'm really excited to be in this class even though I'm by far the oldest student. I've already broken up a cheating scandal within my own lab group. For real, friends!
Our group accidentally missed a chart that we were supposed to complete in the lab, and one of my group members suggested we just get the data from another group. Another member quickly offered to find email addresses for other students. I laid low and sent an email to our professor, explaining that we had messed up and asking whether she wanted us to take a low grade or get data from another group. She said that because this was our first lab, we could borrow the data but that we needed to make a note of that on our report. When I went back to the group with this, the aspiring cheater told me that "The professor wouldn't have known anyway."
My goodness! I can't get kicked out of community college; I have bigger plans.
I'm working on applications to graduate programs for next fall, still for a Master's of Public Health. I was saying to Greg tonight that this step feels like it pulls together the disparate pieces of my life. I've long had this nagging feeling that I should have gone to medical school. That's the obvious fall-back plan for a journalist, right? Medical school sounds too daunting at this point. Nursing is too physical for me. But I have the interest, and I have a huge suitcase full of life experience when it comes to health issues. So this program where I study health problems and how to solve them? This could work.